The "Silicon Exodus": Where will tech employees relocate to?
On the face of it, the move to remote work for many businesses due to the coronavirus pandemic seemed neither good nor bad - just necessary. But a couple of weeks ago, Silicon Valley added a "barbaric" twist. Facebook employees who move out of the Bay Area during the pandemic will face a cost-of-living salary adjustment - and not upwards as you can guess.
While predicting that the company will move to hire more remote workers to achieve a 50% share in its workforce in the next 10 years, Zuckerberg announced that those who change their location by January 2021 will see their salary reconsidered. Citing that this is necessary for tax reasons, Zuckerberg added that "There'll be severe ramifications for people who are not honest about this," sending a chilly message to workers who thought this might be a good development.
The shocking news from Facebook gives us a glimpse of what other companies are preparing and what the future of Silicon Valley might look like.
Silicon Valley has been heavily affected by the pandemic
The coronavirus pandemic has been slamming tech companies and hit Silicon Valley hard. The industry has already cut more than 40,000 jobs as of mid-March. And it's getting worse.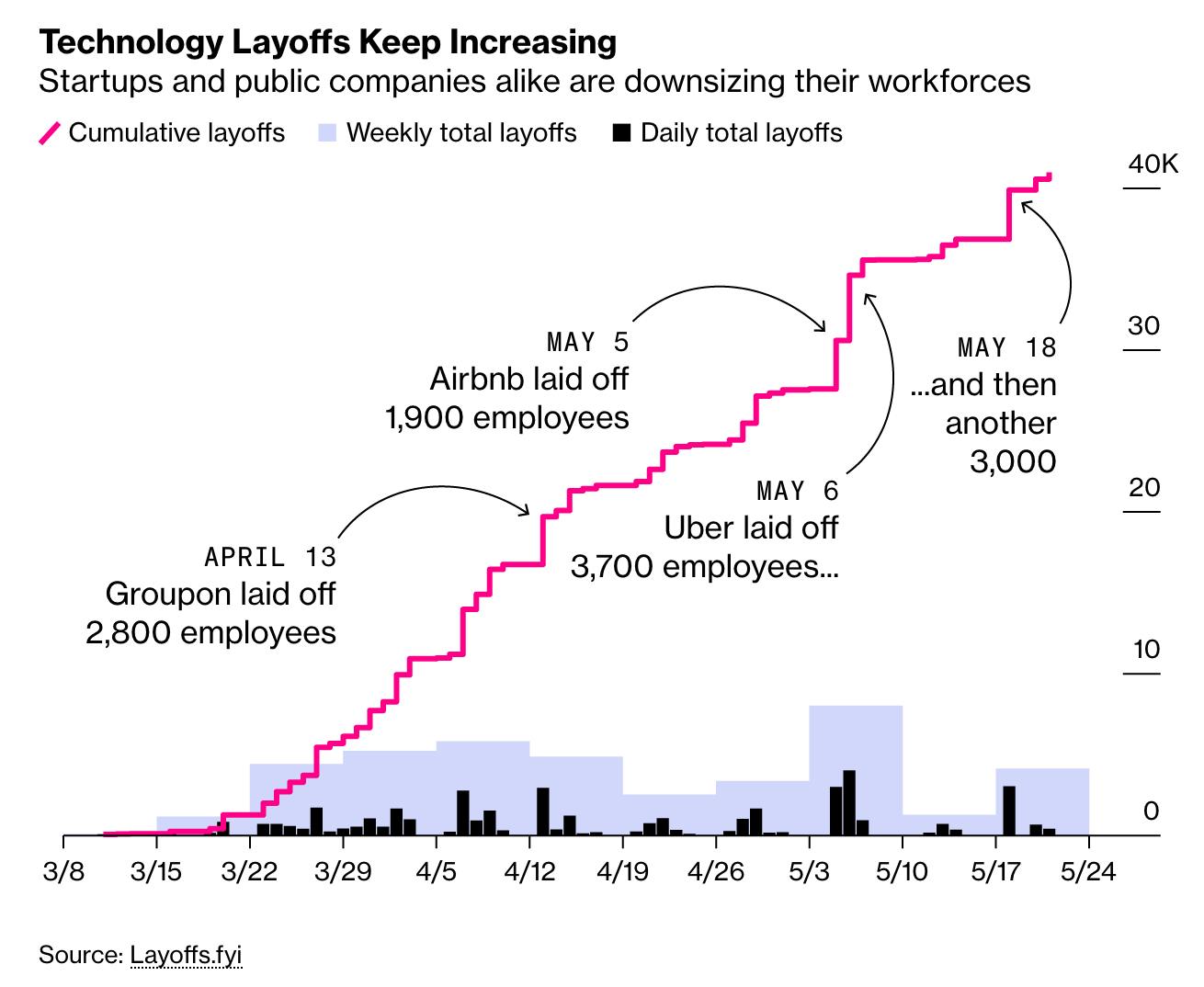 Recent U.S. layoffs now exceed those during the Great Depression in sheer numbers and could end up rivaling the 1930s in percentage terms, according to Bloomberg.
Although not all companies have been hit in the same way by the pandemic [notably that Amazon has added 175,000 new jobs and companies such as Facebook and also Apple have no plan to cut jobs] it's clear that companies are looking to cut costs and that hiring in Silicon Valley will be slowing down at least in the short to medium term and maybe even longer.
Facebook is one of many tech companies to announce a remote work strategy.
Remote work will reshape the housing market
The demand side shock on the housing market, triggered by the concept of remote work being proactively pursued by companies -- such as Facebook announcing a plan to achieve a 50% share of remote workers in 10 years -- is opening new opportunities for workers and freedom to choose where to live.
In a recent study published by Savills, there is a common trend among how UK housing markets are changing in the face of COVID-19. According to the residential global market sentiment survey they conducted, 73% of respondents feel that green space will become a priority for urban buyers, with an additional 61% of respondents anticipating a rise in the demand for rural areas. This tendency, also found on the EU housing market, can probably also be applied to the U.S housing market.
1 - Tech workers will move farther than before
According to the U.S census bureau, last year's trend was about mobility driven towards the same state. Between 2018-2019, more than 60% of the people moving within the country were moving to the same state [see chart 1] and more than 40% of them were moving within 50 miles or less [see chart 2].
Chart 1: Mobility in the same state vs. different state per period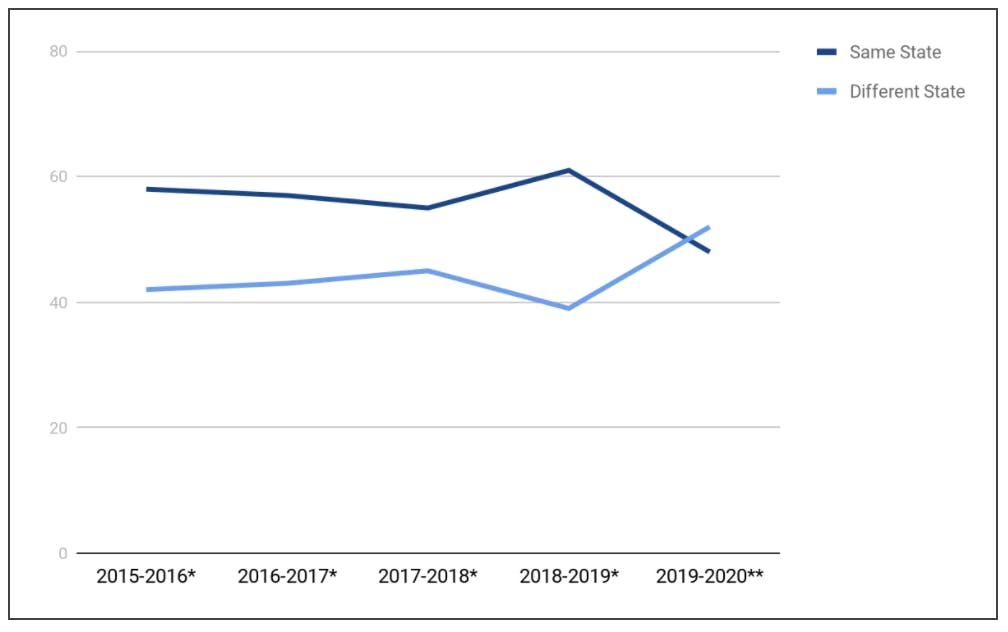 * data taken from the US census bureau
** data from Wanted relocation tool usage
Chart 2: Mobility less than 50 miles away from current location vs. 500 miles or more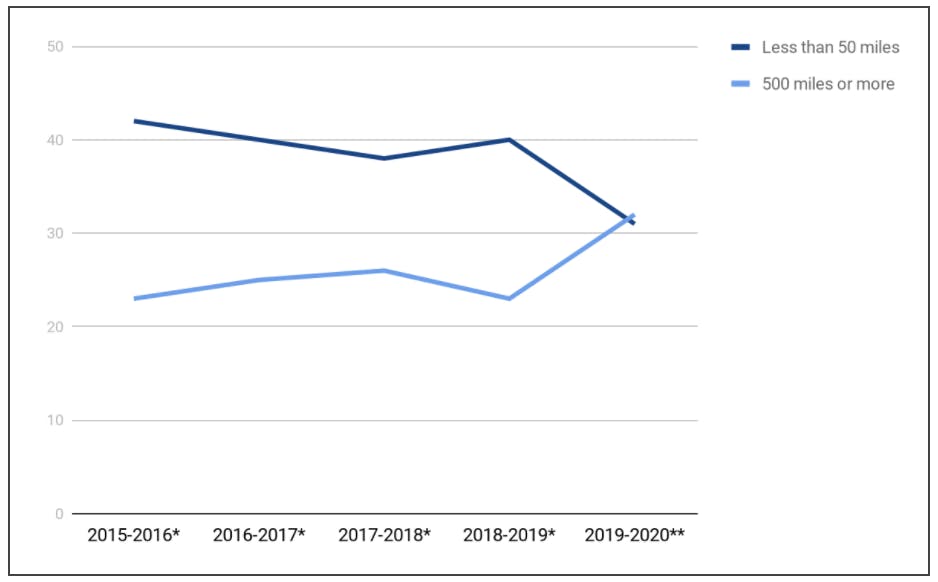 * data taken from the US census bureau
** data from Wanted relocation tool usage
Based on the research done about relocation calculations on our relocation tool, we were able to project how the trend will look in 2019-2020.
More than 32% of those moving will be moving farther than 500 miles away from their current location, versus a tendency that was no higher than 26% in recent years. The trend is reversing already as our data shows that more than half (52%) of tech workers are looking into moving to another state when they plan to switch jobs.
2- A tech city exodus: NYC and SF will be down prioritized by tech workers.
At the start of the COVID-19 lockdown, some people already went back to their countryside second homes, quickly leaving the tiny spaces of big cities for fresher air and greener pastures.
Not surprisingly, tech workers -- especially those with kids -- will consider living in the countryside permanently, leaving the big cities for a better quality life. Those working remotely will not need to spend as much time as they used to in a big city office.
The demand for rural housing already rose earlier this year, and the demand for big city homes has dropped by 20%. According to Redfin CEO, "The people who are selling right now are the ones who have to sell, and that's still an essential part of the U.S. economy"
According to our internal data coming from the usage of the relocation tool, here are the top cities tech workers were looking to move to.
Chart 3: Top 5 cities* tech workers will be looking to relocate to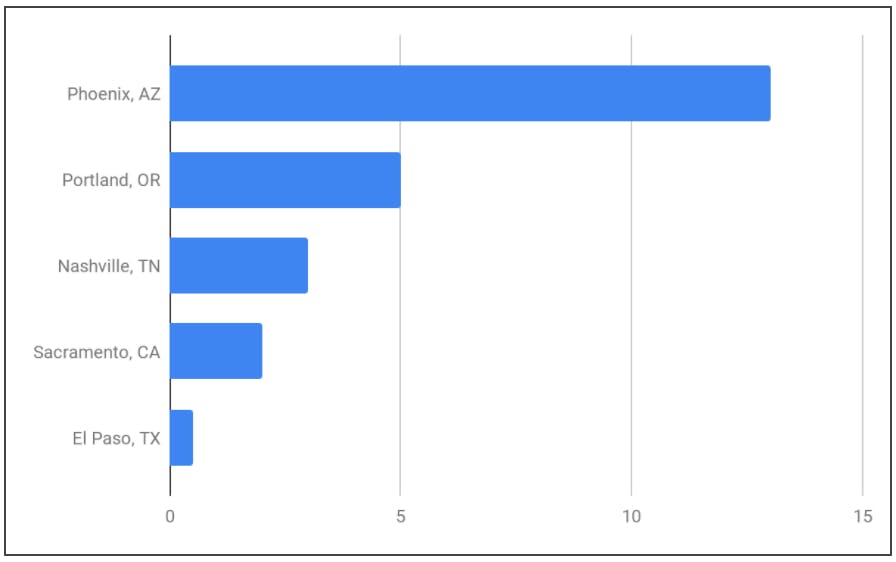 * data taken from the US census bureau
It isn't a surprise to see Phoenix, Arizona as the first place among top cities that tech workers are looking to relocate to. The tech scene in Phoenix has been booming in recent years. With an average salary of $92,246, the city is home to PHX Startup Week and it has all qualities to become a mini "Silicon Valley" for remote workers.
Portland seems also like a nice alternative, with bonuses such as day trips for nature-lovers and the possibility to explore the wonders around it over the weekend. The tech salary in the city averages $100,000 which can ensure a great quality of life.
3- 67% of the target relocation cities chosen have a lower rent than their current city
The high cost of living in San Francisco, as shown by the Wanted relocation tool
On average, those calculating their cost-of-living of relocating to another city saw their average expenditures drop 48% compared to their current location.
If you're living in New York City as a web developer earning $300,000 a year, moving to Phoenix will result in a saving of 43% of your current earning, or some odd $130,000 per year. It's even possible to find a middle ground if needed and increase your quality of life while lowering your salary at the same time.
On the other hand, a move from Detroit, Michigan to live in San Francisco will result in a need to earn roughly twice more to cover living expenses.